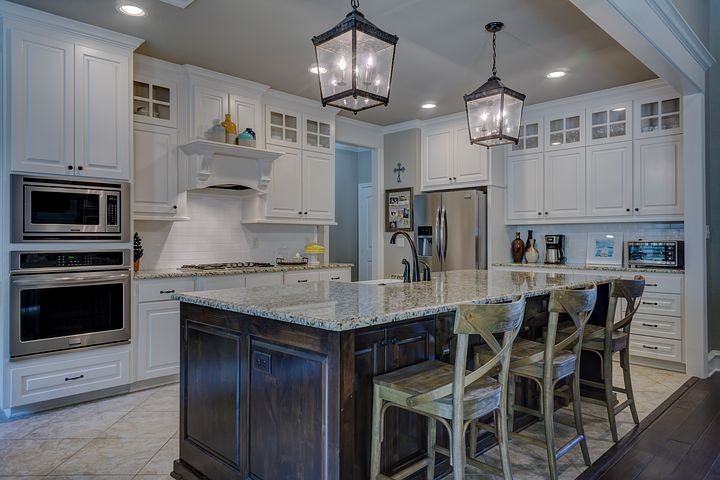 Home Trends On Their Way Out
Home kitchen and bath trends can be an asset or a detriment to your home sale and value when it's time to sell.
What was once the most awesome home design trend just 5 or 10 years ago, is now a reason buyers will bypass your home for another.
Here are some kitchen & bath trends that are on their way out.
It's time to start thinking of steering clear of these trends or updating!
We even give you some examples of how to update these specific issues.
Hanging Pots
Whether they are hanging above the stove or from the ceiling, today's buyers want clean, sleek lines and those hanging pot racks now shout "clutter".
Try adding cabinets or other design options instead as seen here.
Or even this pullout option.
Distressed Cabinets
Painting cabinets is still a good idea and and cheaper than total replacement.
However, avoid doing any distressed finishes. Paint cabinets with crisp, clean colors.
Glass Block Bathroom Windows
I still see a lot of these in a homes built in the 90's locally.
They are a great idea for giving privacy while allowing light into the space.
But, today they look gaudy and outdated.
All White Bathrooms
I love a sleek, modern look. But the all white trend is just out!
You don't have to paint the bathroom, just add some color so the room does not look so sterile.
This is a shining example of adding color without spending a lot of money!
Glossy Bathroom Tile
The trend towards a more natural look is on the rise.
Matte finishes are the way to go and tile is cheap!
This is a perfect example of the matte look: Matte Bathroom Tile
Tile Countertops
These were making a comeback in recent years as a kitchen and bath trend.
Tile is less expensive than granite and other counter-top options.
However, they are prone to chips and grout stains.
Take a look at this gorgeous glass and granite countertop remodel!
Multiple Shower Heads
Our world is all about conservation and these means more water usage and energy.
Buyers are now opting for one shower head.
Check out this beautiful overhead shower with one hand held spray
Fluorescent Box Lighting
It's time to let this go if you still have it in your kitchen.
Try pendant lighting over your work area and add accent lighting above instead.
Take a look at these options here:
Sleek, modern kitchen lighting
At the end of the day, its time to remember this is the 21st century.
Your home should reflect the changing design trends for the buyers no matter where you live.
If you are planning to stay in your home for a while, then tackle each of these projects now.
If you are thinking of selling, we will be happy to help you evaluate options for a buyer.
Don't forget to leave your comments below and also subscribe and share our blog!
Till next time…