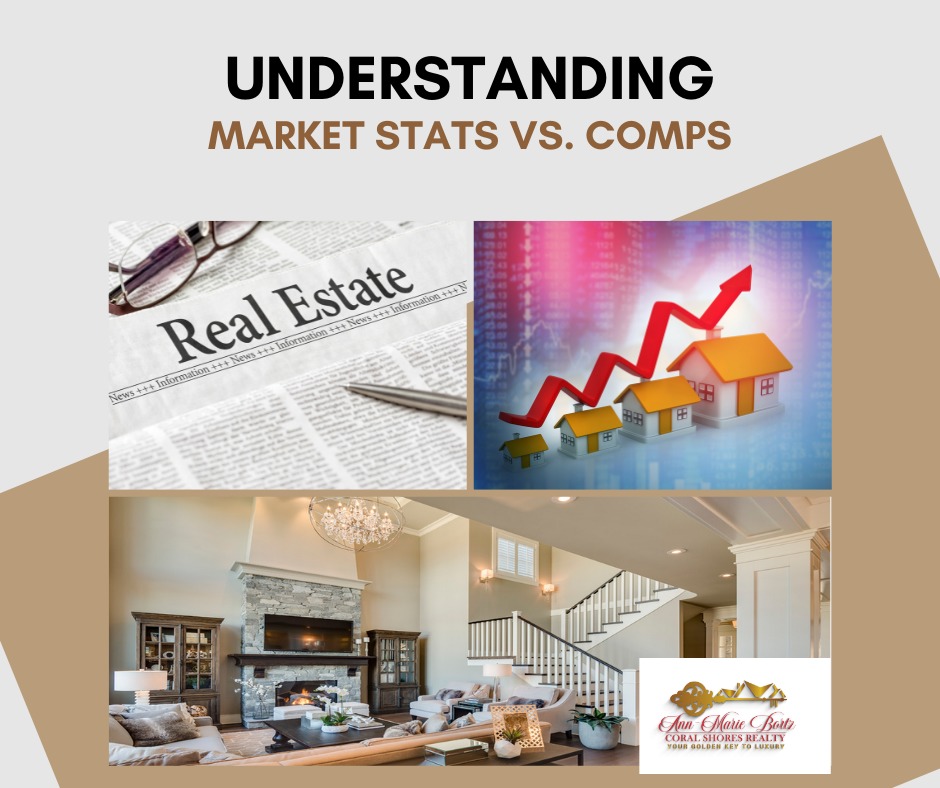 Real Estate Comps vs Market Stats
Whether you are a buyer or a seller, the first questions people ask me as a Realtor is to see the "comps" or CMA.
But there is another piece of data that is useful in establishing value and that is knowing the real estate market stats.
So, what is the difference, and how do you know when you should look at one vs the other?
Comps, or comparables, are real estate market stats that help a buyer and seller.
When a buyer finds a property they would like to purchase the comps help them to evaluate the listing price compared to other sales in the community and against the competition of other available homes to choose from.
For sellers it helps them to understand how their home stacks up to the other homes that are already on the market.
Market stats are extremely useful to real estate agents to show how the marketplace – overall – is performing and the data helps me to set expectations for buyers and sellers by showing them pricing trends.
These trends include how competitive the market is, how pricing is trending,  how many days on market for homes in particular price points are taking to sell, and whether the marketplace is favoring buyers or sellers.
Buying a home may be more expensive than your typical every day purchases, but consumers view the decision making process the same way.
For example when you go to buy a microwave, whether you physically go to the store or purchase on line, you look at all your options in your price range.
You compare the features between each brand and you evaluate the price.
A value is given to each microwave you are considering based on your individual needs.  What matters to me in a microwave, may not matter to you.  And thats why people are willing to pay different prices for certain features that matter to them.
So, based on that analogy, comps are very similar.  A home buyer will look at each home and its features or amenities, such as a pool, appliance upgrades, yard size, etc., and these features will add to a perceived value for the home, if they are important to the buyer.
Even if a seller has spent considerable funds to update and upgrade the home, if those features are not important to the buyer, they would not be willing to pay extra for them.
I always ask my sellers when we are setting price on a upgrade they did, "Did you do this for you or the next owner of the home"?
Because certain upgrades may be outside of the neighborhood norm and could present a pricing problem.  
For example, a neighborhood of homes is selling in the $300,000 range, and the buyer puts a solid gold counter top in the kitchens and baths.  Sure, it costs a lot to do that, and its appealing…. but in that community the return on investment wouldn't be there.
Conversely, another buyer may have a strong desire for a feature and are willing to pay more for it.
Comps, look at specific properties in a neighborhood or subdivision and compare them to each other in a particular period of time, which is is typically 6 months.
This same information is also used by sellers to determine and set a list price which is arrived at by looking at recently sold homes (comps) and how they compared in various features and amenities.
And an important part to consider is whether the buyer is seeking financing.  If so, then the property would have to appraise in order for their loan to be approved.
Whether you are buying or selling a home at this time, knowing the market statistics should matter and its valuable information.
It will help you decide if the current market is the RIGHT time for you to buy or sell by showing you the market direction.
For instance, It may be a better time to buy if housing inventory is high; or it may be a better time to sell if inventory is low.
Ultimately, the market stats will matter more for everyone to understand what is going on in the market overall; but when you are ready to list your home or purchase a home, you should also consider the comps.
I have parts of my website dedicated to monthly market stats for a variety of communities.  Here is one for Pine Ridge in Beverly Hills, Florida.
If you need help finding the market stats for your neighborhood, please call me or message me on Facebook.