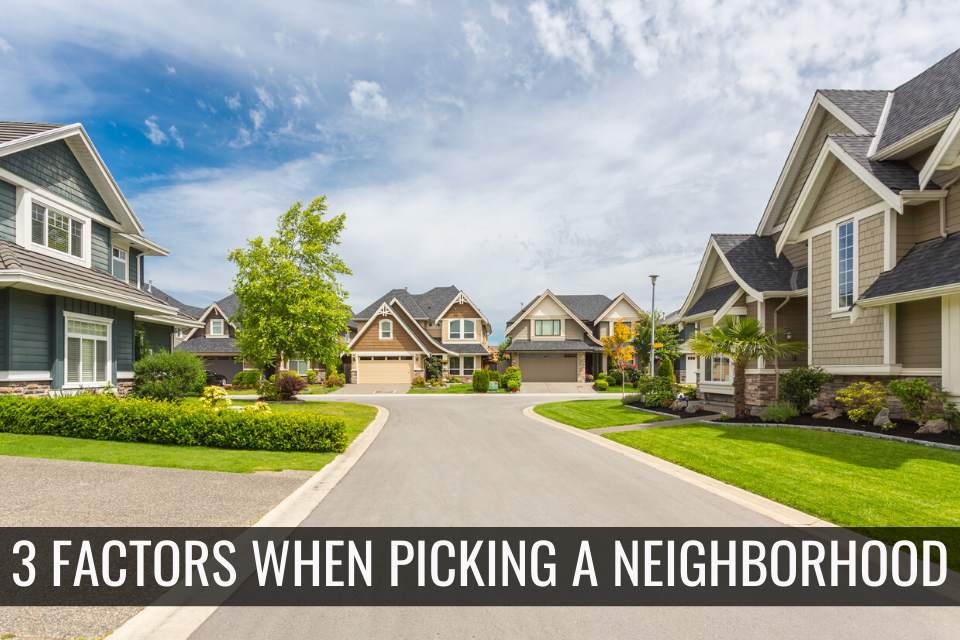 3 Factors For Choosing A Neighborhood
How would you choose a neighborhood to purchase your new home in?
Buying a new home is exciting. Whether you're moving across the country or across town, finding the right house is just one part of choosing the best option.
The neighborhood in which the home is located is a critical component of lifestyle as well.
Here are 3 of the most important considerations as you search for the right community to call home.
1. Safety – First and foremost, the safety of the neighborhood is important. Fortunately, there are multiple ways to get details concerning safety.
Search local crime statistics through local police sites and public online search sites.
Spend time driving through the neighborhood, talk with neighbors, and pay attention to the security of the homes themselves; a community where most homes have extra security could be a sign of trouble
2. Schools – Regardless of whether you have children in the home, or plan to, the quality of the local schools is a big factor in home values, and is easy to research.
Visit the district's website and read about their test scores and rankings.
Remember, some more rural communities may not have exceptional school rankings, so you will have to consider if this will work for you.
Extracurricular activities are also a large factor in the desirability of the schools; watch for art, music, and athletic programs.
3. Conveniences – Remember that you'll need to shop for groceries, work out at a gym, enjoy entertainment, and dine out.
As you drive through potential communities, take note of the local availability of the extras you need.
Finding the right home is not enough to live a nice lifestyle.
The neighborhood is just as important. Not only for your enjoyment, but it affects the resale value as well.
You can have the best home in the community with all the latest updates; but if no one wants to live there, it won't attract buyers.
Ask your Realtor to give you an idea of the turn-over in the community.
Learn how many homes are for sale in the neighborhood and how long they have been on the market.
Check out our other blog post for first time homebuyers here.
Choosing the right neighborhood takes a little research, but it's well worth it to love where you live.