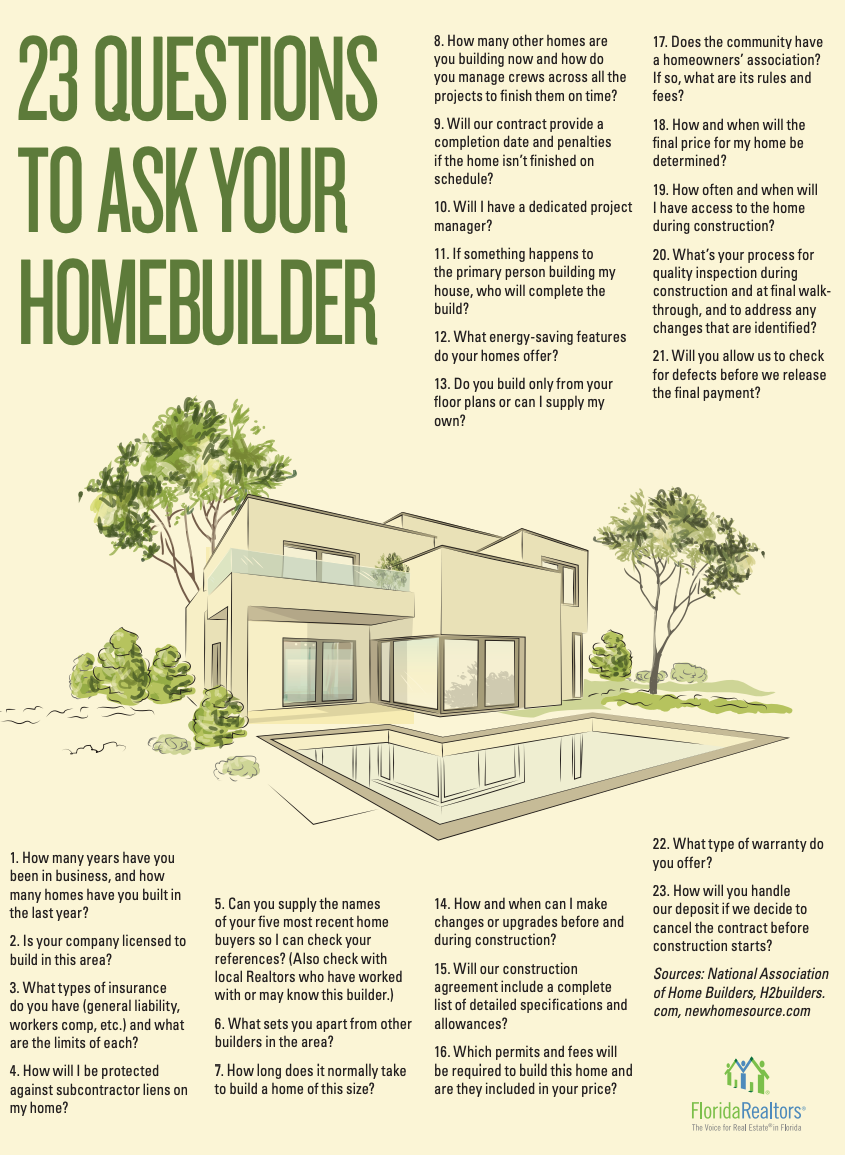 Questions For Your Home Builder
Choosing your home builder can make or break your home construction experience.
You've purchased your plot of land, got your home plans and you have narrowed down your list of potential home builders….now what?
I have had 2 new homes constructed, and I can tell you the process of building a home is different in a planned urban development where you have a selected number of plans to choose from, versus building a custom home.
When you purchase a home in a PUD, you deal with their agent or office personal.
When building a custom home, you get to speak directly with the home builder throughout the project.
This article is mostly for builders of custom homes, but there are many parts of it that are beneficial to both types of new home builders.
When you build a custom home you get to customize the home to your personal taste and liking.
You get to choose everything from the layout, the flooring, paint colors, cabinets, door knobs, sink, lighting fixtures and more!
All this is predicated on a budget that works for your personal financial capability, so its extremely important that you factor in all the amenities you want in the home to include in your quote.
Upgrades and other perks can drive up the cost of construction costs with your builder. So it's important to develop a realistic idea of how much you can afford to spend.
Most home builders will need a construction loan. By getting pre-approved for your construction loan, you will have a good idea of the maximum amount of money you can spend.
Remember many projects end up costing more than you initially planned.
Without detailing specifics you could end up with a home built with "builder grade" materials that tend to be on the cheap side.
This is why asking all the right questions will help you hash out the particulars and specifications before a contract is written and executed.
You may find out after going through the motions that purchasing a re-sale home and doing some minor upgrades yourself is a better option.
Whatever your decision, be sure to know ask the 23 questions of your home builder.
And if you need additional help with ideas for home building and ways to save money, reach out to the Bortz Team or on our Facebook page.