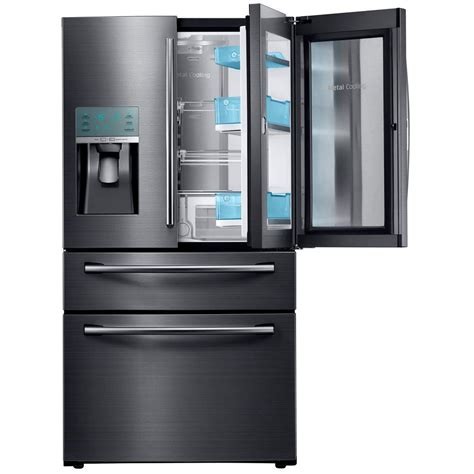 Are black appliances making a come-back?
Yes, they are back, but now its black 'stainless steel' appliances.
The main photo is a beautiful Samsung 27.8 cubic foot black stainless steel refrigerator with French doors.
There is even a 2 in 1 door for access to drinks and codiments and counter height drawers!
Remember how we all loved the stainless steel appliances until we realized we had to play fingerprint war games everyday?
Then the industry came out with the resolution where now they don't leave fingerprints, but by then most of us were stuck with the other kind!
The black stainless steel appliances do a much better job at hiding all those fingerprints and they look very modern and sleek.
I know in our business, many of our customers still like the black appliances.
But now its time to update your old black appliances to the new and stunning options now on the market.
Here are a few to consider:
Cuisinart Black Stainless Steel Toaster
It makes two toasts per side and has with it's part retro and part modern look with polished chrome and black accents its a winner for any style décor.
It has two sex-setting browning dials, reheat, defrost and a bagel button with LED indicators.
An easy update for your current hood range fan system.  It stylish, affordable has touch pane and LED display and functional!
And for those of you will the ceiling mount range hoods, who just want a touch of black, check out this gorgeous stainless steel wall mounted range hood!
I don't drink coffee, never have.  But I know its the American national beverage.
This Cuisinart version is fully programmable and even has a brew strength control system.
This is a real beauty!  This black stainless steel exterior is is smudge and fingerprint resistant.
This wine cooler  has a 28 bottle storage capacity with quiet and vibration free cooling system.
You can also set the temperature as low as 54 degrees Fahrenheit and as high as 66 degrees Fahrenheit while protecting sediment.
Features include interior LED lighting and 6 chrome plated wire shelves.
Start updating your kitchen today if you are thinking of selling within the next 18 to 24 months.
Your home will be in vogue and appealing to the buyers looking for updated and homes in style with current trends.