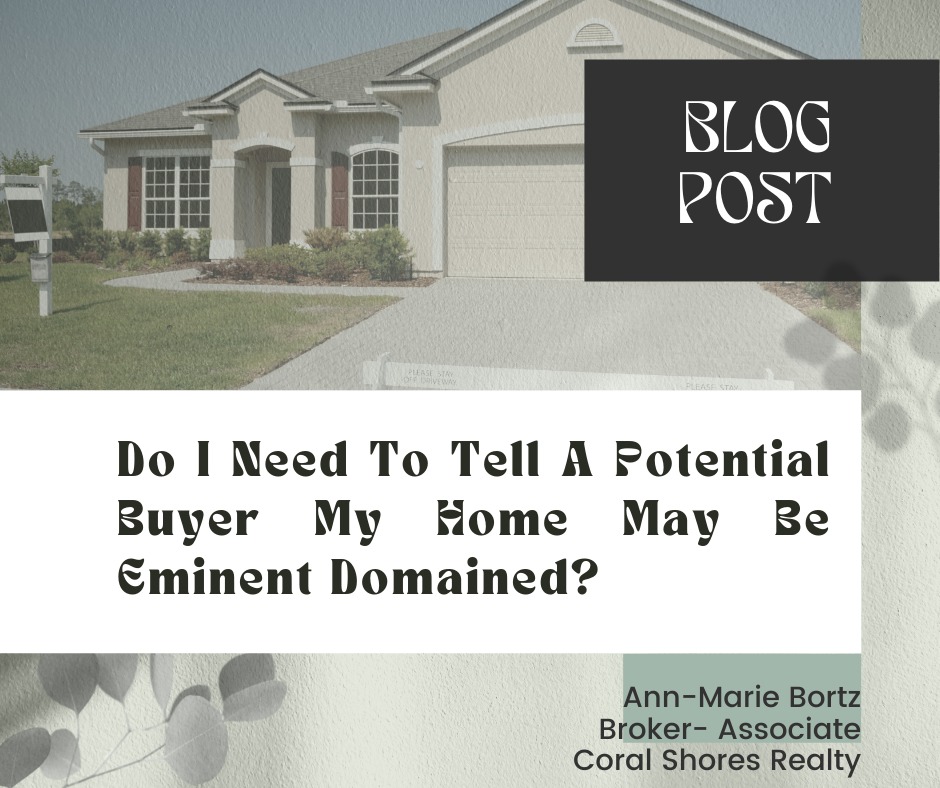 Eminent Domain and Selling Your Home
The Suncoast and Northern Turnpike Connector expansion project is causing havoc for local homeowners in the N. Central Florida areas of Citrus, Levy, Marion and Sumter counties.
I am writing this blog as a Realtor and I am not an attorney.  But no matter what side of the fence you are on with this project, the majority of people in these areas, including me, are against the toll road being constructed through rural areas.
The study area is quite expansive and if you live in cities from Inverness to Bronson, Williston, Chiefland, Ocala, Dunnellon or Bushnell, you may decide its a better option to sell your property now before the decision and the study is complete or taken by the government.
If you want to see where you home is located in relation to the 4 different alternate route FDOT is studying, you can type in your address on their interactive map. 
The main question for homeowners considering selling their property that MAY be a part of the eminent domain process is should they disclose this to potential buyers.
There is no clear legal answer to this question in the state of Florida. However, to avoid a potential lawsuit for failure to disclose a material fact that affects the value of the property, its best practice that you disclose this issue to anyone interested in purchasing your property.
Homeowners may ask why it matters if the study isn't even completed yet, and the decision from FDOT and the governor has not been made.  In certain court cases, the state of Florida considers this "fraudulent concealment" and "fraudulent nondisclosure"  and you may want to take some time to look at the Florida Supreme Court case "Johnson v Davis".
In another case, "Azim v M/I Schottenstein Homes, Inc.", the court stated that "the law should not expect every potential homeowner (buyer) in every case to root around the bowels of the courthouse for surveys, records, etc., that would verify or contradict a sellers representation about the property".
And in yet another case the resulting decision was the opposite.  In "Hauben v Harmon", that court said the seller does not have a duty to disclose governmental condemnation.  The court noted in that case that both the buyer and seller had the same access to the information concerning the property because it was in the public records.
So, what's a seller to do?  Let's back up for a minute and switch sides, what if you were the buyer of a property that was potentially going to be part of an eminent domain situation with the government?  Would you still purchase that property if you knew?  And if you did, would you pay the full market value with the knowledge that it may be taken by the government?
Issues take on a different meaning based on what side of the transaction you are on.  As a seller, you want the most money for your property and deep down inside, you may already know this fact may scare potential buyers away so you choose to not say anything.
But that doesn't make it the right decision.  You may gain more money in this market for your home, but a potential lawsuit from the buyer in the future could wipe all that away and more!
Many buyers in the Ocala, Citrus Springs and Dunnellon areas where I specialize in real estate, are moving here from other parts of the country.  They have no idea about this Turnpike connector issue, so its very likely they know nothing about this turnpike expansion and how it would affect your property.
Another question sellers have is do I have to disclose if I use a Realtor? 
Realtors who are aware of this issue would have a duty to encourage you to disclose or be prepared to disclose when interested parties inquire about the property.  Real estate agents are bound by the National Association or Realtors Code of Ethics.
Any real estate agent who knowingly conceals facts would be putting themselves and their brokerage in a possible litigious situation along with the homeowner.
While Florida case laws appears to indicate that sellers may not be required to disclose an eminent domain project, in the end it comes down to are your going to be ready if a buyer decides to take you to court?
Florida case law also suggests that a seller MAY not be required to disclose an eminent domain project for two reasons:
1.  Eminent domain projects are often published in the public records, which would make them a "readily observable" fact to the buyer.
2.  The possibility of a future eminent domain, where future project plans can change man not rise to the level of a material fact affecting the value of the property.
With no clear and consistent case laws in Florida for or against eminent domain disclosure, and since you cannot pick and choose which facts to disclose, in my opinion its best that a seller of real estate in Florida tell the whole truth. 
As you have seen, Florida case laws are unclear about which decision you would get if a fraud case were to be brought against you by a buyer for non-disclosure of an eminent domain situation.
When I represent sellers as their Realtor, I encourage them to disclose ALL facts that materially affect the value of the property.
If you have any questions about real estate in the Dunnellon, Citrus Springs, Yankeetown, Inglis, Crystal River, Ocala, Morriston, and surrounding areas, please give me a call at 352-602-3713.