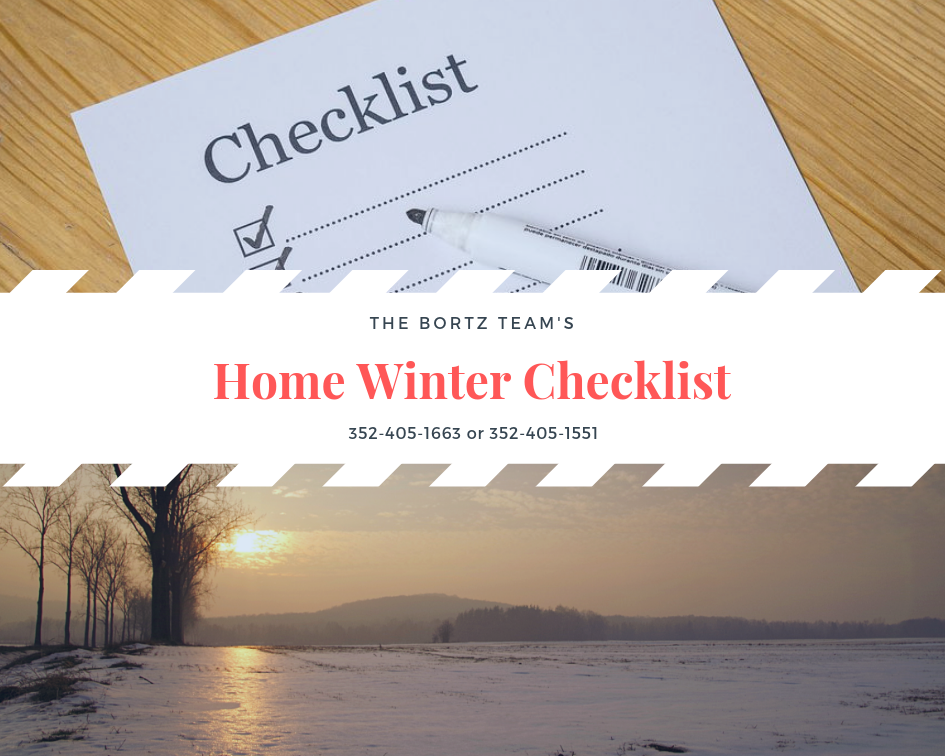 Homeowner Winter Checklist
Its time for homeowner winter checklist.
There are things around your home that you should do right now before winter arrives.
Even though we live in Florida, those of us in North Central Florida know how frigid the temperatures get during the winter months.
These homeowner winter checklist tips will help you avoid expensive repairs later.
Caulk & Cover Room A/C Conditioners
Let's face it, not everyone has central air.  If you have a window unit, the best solution is to remove it so cold air will not flow in though or around it.
but if you live it in or have a permanent walled installed unit, simply place a cover over the outside of the unit.
And, inside the home, apply some removable caulk around the unit where the window meets the wall.
If you have a built in wall unit, use latex caulk instead to permanently seal it.
Protect Fruit Trees Against Frost
These trees are prone to frost cracking.
this can cause trunk cracking that prevents the tree from taking in moisture and nutrients.
Invest in a tree wrap and remove in in spring.
Swap Out Gas In Small Engines
Gas from the pump can gum up a carburetor in a small engine in just a few short months.
So, remove the gas from the tank with a turkey baster and run the engine dry.
Add a small amount of non-oxygenated gas, and a splash of fuel stabilizer and run the engine.
The gas has a longer shelf life and will save you money in repairs!
Clean Attic Vents
Over time, the vents in your soffits may get clogged with dust and debris.
Clean them with a leaf blower or compressed air.
This should be done very few years unless you have a lot of trees.
Then you will want to clean them every season.
Lube Your Car
Let's not forget to take care of our mode of transportation.
You can lube your entire vehicle in less than 20 minutes.
Get some dry Teflon spray, a rage, glass cleaner and spray lithium grease.
Use the Teflon spray on your window channels & door and trunk/hatch locks cylinders.
Then coat all weather stripping with the dry Teflon spray.
And finally lube the hood, trunk and tailgate latches with lithium grease.
Don't forget to spray the door hinges!
Clean the Chimney
If you use your fireplace, have it cleaned before you use it this season.
This will get rid of buildup of creosotate or debris from bird nests or leaves that can be a fire hazard.
Reverse Ceiling Fans
Running the ceiling fan in winter months in a "clockwise" position can push heated air down.
If you have rooms with high ceiling, they will be more comfortable.
Seal Driveway Cracks
If you driveway has cracks, the cold can cause water to freeze and expand in the cracks.
This will leave you even more damage to repair in the spring.
We hope these home winter checklist tips will help you avoid costly repairs in the spring.
If you have any tips you would like to add, please leave them in our comments below for our readers to see.
And remember, when you are ready to sell your home, we are always here to help.