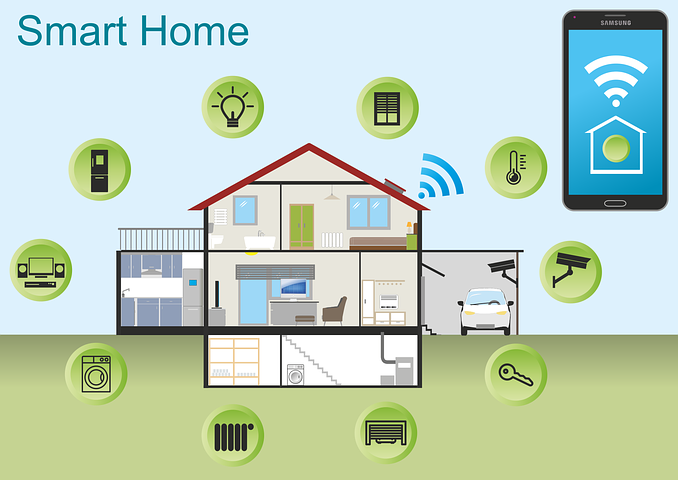 MUST-HAVE SMART HOME PRODUCTS
Every one wants a Smart home….but let's face it, some of us can only afford smart home "products".
These really cool home tech products continue to show the fast pace of technology for our homes and how affordable it is for even the average home owner to add these smart home products to their property.
As the fall and winter months are approaching, who wouldn't love to have this when they step out of the shower or even as a part of your morning routine?
It uses a standard power outlet, is portable and has an auto shutoff safety feature.
This state of the art roofing system was originally offered through a partnership with Home Depot,
Tesla is now offering solar roof that will maintain aesthetic appeal while producing renewable clean energy.
This product is beautiful and looks like your roof instead of those big ugly panels.  It comes in 4 different versions (smooth, textured, tuscan and slate).
And glass solar tiles are warrantied for life! This one is money well spent!
Let's face it, cleaning our toilets is one of the most hated and despised chores for homeowners.
It seems as soon as you clean it, you can smell it again!
This thing truly is impressive and puts the "smart" in smart home products.
It has a robotic arm that drops down into the toilet and cleans it with a push of a button!  It will also clean the toilet seat!
The launch date for this device is this month, so be sure to check it out.  I know I will!
Be sure to view the video!
Rain Shower With Wireless Speaker
I love singing in the shower!  And don't pretend you don't as well.  This shower head has little water holes that surround a Bluetooth speaker.
It can connect to your music source as much as 33 feet away.
Recent reviews online found consumers said the shower head has strong water flow.
If you have an older home that did not have wiring for under counter lights, this is a perfect solution.
It only turns on when you need it and only stays on for as long as you need it.
Its battery operated and can be mounted anywhere.
iRobot Braava Jet 240 Robot Mop
We have all heard of or probably own the robot vacuums.  But this is a game changer.
Its a robotic mop that will clean up dirt and stains like soda, dried coffee and more by using a vibrating cleaning head.
Watch the CNet Video here.
Hate monthly monitoring fees for your security system?
Then you should definately check out this 1080HD camera with night vision, motion detections and a 95 decibal alarm and speeaker home security system.
It also monitors heat and humidity and sends you an alert if it detects unusual change.
And it will communicate with someone at home when you are away through video.
How awesome is that!
You can check out this review and tutorial here on YouTube.
What makes this little "transformer like" gadget unique is it has on-board tools you use for electrical work!
There is a voltage tester built right into the handles.
It also has a circuit alert screwdriver, crimper, wire stripper, loop bender, wire cutter and square and star bits.
A real must-have for your home.
TrickleStar Motion-Sensor Power Strip.
I don't know about you, but I am always looking for ways to reduce my electric bill.
I always can find something else I would rather have for the money I give them.
Well, this power strip is unlike any other on the market.  It shuts down power-sucking devices when they are not being used.
There are so many other great smart home products being offered, I cannot detail them all here.
You can check out our other smart home posts here.
But I will continue to post more of these ingenious products on this blog in the future.  So be sure to check back.
Let us know if you have or plan to purchase any of the items featured.
Leave your comments below and don't forget to subscribe to our blog feed so that you don't miss any of our new posts and our podcasts.