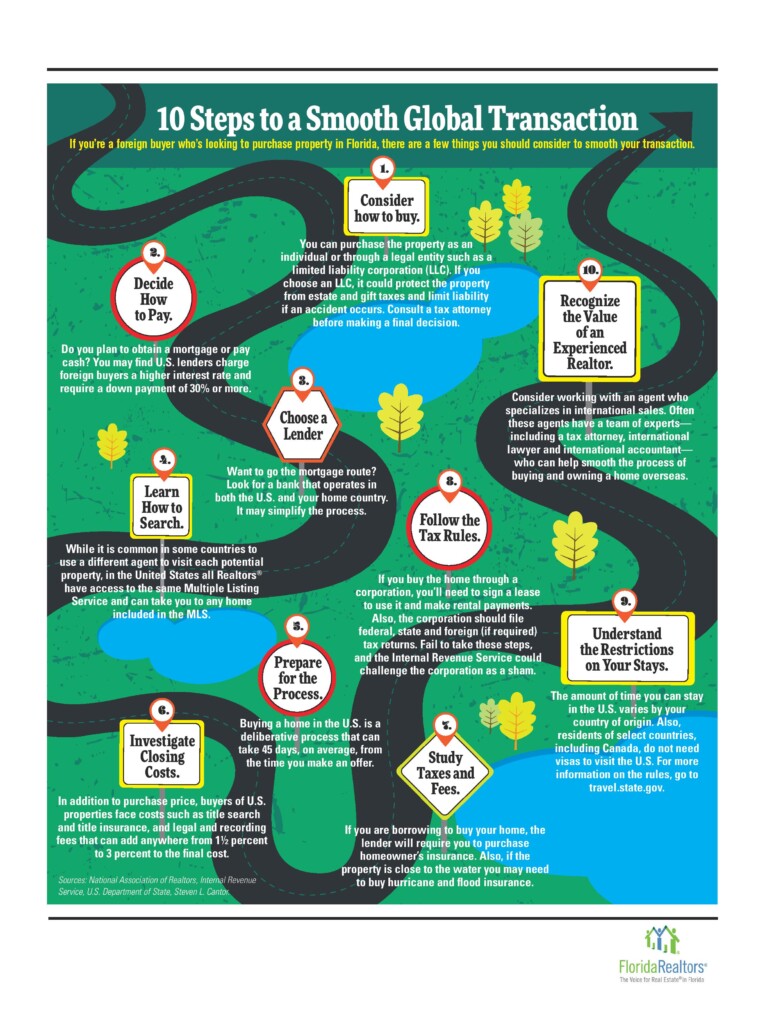 10 STEPS TO A SMOOTH GLOBAL TRANSACTION
s a smooth global transaction in real estate really possibly? I started my real estate career 18 years ago in Broward county of South Florida, where I had the opportunity to work with many foreign buyers of luxury condominiums and homes from the River House in Ft. Lauderdale to South Beach properties.   International buyers want a smooth global transaction and this is where we shine!  During that time I held licenses as a mortgage broker, property manager and currently still maintain only my real estate license.
The knowledge I gained from holding the other licenses have proven instrumental in understanding all aspects of a real estate transaction.  We are able to help our customers locate suitable properties to add to their investment portfolios as well as oversee the entire process anticipating possible pitfalls that many other agents are uninformed about.  There is more to finding a good agent to help you with a real estate transaction than most people think, especially if you are a foreign buyer.  Whether setting up your acquisitions in a trust or a corporate entity, our team can help!
Following the market correction in 2008, many lending criteria has changed, and in fact, did you know that there is a temporary rule imposed in early 2016 by the U.S. Treasury Department on Miami-Dade County and Manhattan, two of the nation's most attractive real estate markets to dark money?   In Miami-Dade, the first-of-its-kind study found a 95 percent drop in how much cash shell companies and other corporate entities spent on homes.
Buyers who use companies to purchase real estate in Florida must now disclose the true owners/purchasers.  A new rule in May, dropped the price threshold that triggers the reporting requirement.  Previously, companies had to report their owners when they paid cash for homes priced at $1 million or above in Miami-Dade, Broward and Palm Beach counties. Now, the limit is $300,000.   The new order also extends to trusts, which had previously been excluded.
Before the rule, corporate entities bought an average of $111 million worth of homes with cash in Miami-Dade per week, or 29 percent of all residential transactions, according to the study. But almost immediately after the reporting requirement began, that number plummeted to $5 million per week, or 2 percent of all transactions.
The reason this is important is because most of the real estate transactions for higher end properties  from foreign buyers are paid for in cash; so it's important to understand the new rules, though currently temporary, and how they will affect you as a cash buyer in Florida.
We are here to help you with all your real estate needs and to help you with the necessary steps it will take toward a smooth global transaction.  Whether you are paying cash or financing, we are here to help you.  We have offices in Ft. Lauderdale and access to some of the best real estate in the country.
Give us a call today if you are thinking of buying or selling real estate in the greater Ocala, Dunnellon & surrounding areas or in South Florida.  We've got you covered!