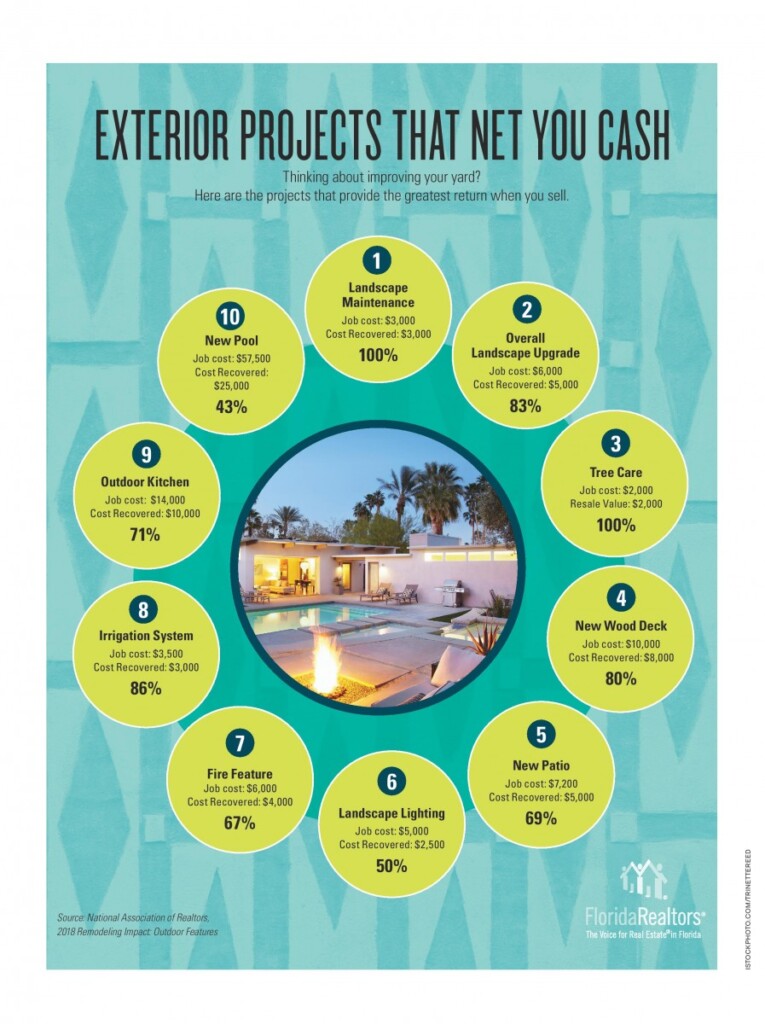 Thinking of some Home Improvement Projects for your yard?
Does your outdoor space have you thinking of some home improvement projects for your yard?  Let's face it, everyone wants "the" envied yard during the summertime.  One with beautifully landscaped, mature flowers, tiki lights, the swimming pool and fire pit, palm trees and more!
But sometimes our plans fall short when we take on projects that end up costing us so much and when it comes time to sell it's of no value to the buyer.
All home improvement projects take time, money and proper planning.  So be wise about which you choose to undertake, by looking at our 10 exterior projects that will net you cash when you are ready to sell!
It is important to note that before you put out those funds on an awesome salt-water pool, heated pool with waterfall, that you take into consideration how long you plan to stay in the home.
Many buyers are mistaken in thinking that if they spent "X" dollars on a pool, that is what they will 100% return on investment when it comes time to sell.  That is simply not the case nor is it reality. But you could enjoy a healthy 43% return on investment depending on your neighborhood!
What about adding that new wood deck your wife has been wanting guys?  Did you know that project could net you as much as 80% return on investment when its time to sell?  And what about that outdoor kitchen!  That is a HUGE 71% return on investment and one many people now add to their home.
Whatever the project your have in mind, (i.e. adding landscaping lights, an irrigation system or that awesome fire feature), enjoy it now and reap the rewards later!
For your do-it-yourself-ers here are some of the highest rated products for your home improvement projects on Amazon!
Let us know what improvements you plan on making to your home this summer in the comments section below!  And when it's time to list that home for sale, we are here to help you get the most money for your home!