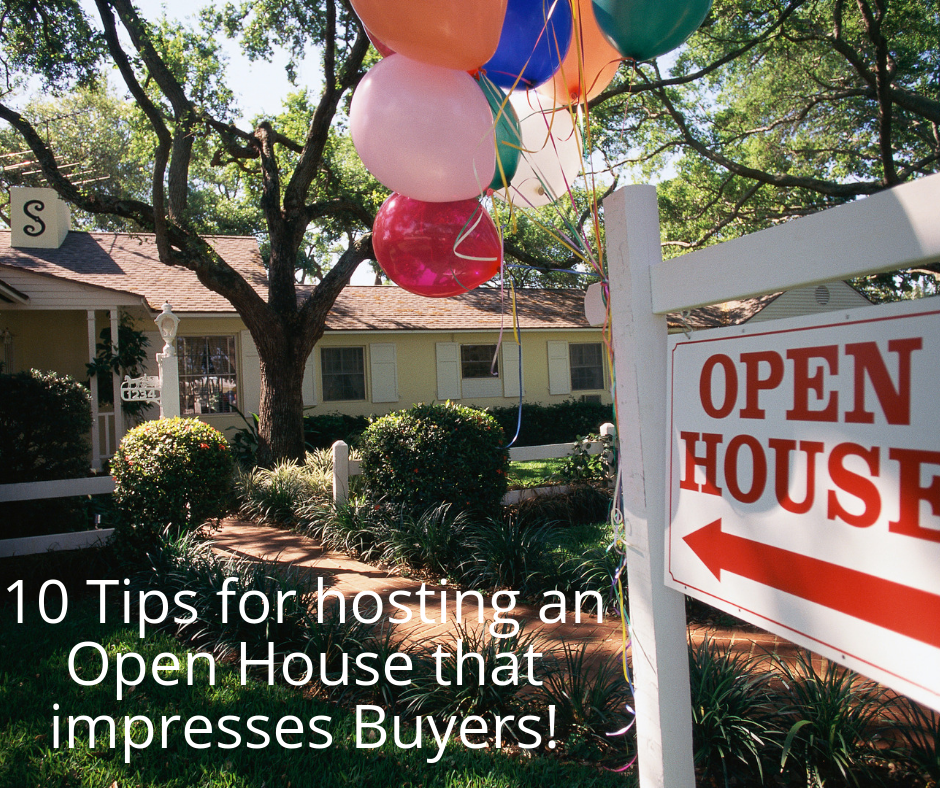 10 Open House Tips to Impress Buyers
An Open House is an opportunity for you to wow buyers!
But, as the old saying goes, "you only get one chance to make a first impression."
Buyers get to enter your home and give a "test drive" to see if it will work for their needs and their family.
It's your time to get someone to fall in love with your home!
Tip #1 – Maximize your foot traffic by holding your open house on Saturdays and Sundays between 11 am and 5 pm.
Be sure to avoid holidays, unofficial holidays (like the Superbowl), and community events.
Tip #2 – If you have a Realtor, let your agent host the open house.
Buyers want to tour your home and assess it on their own. Its important that sellers not be present during an open house.
Sometimes a seller can say too much and hinder or hurt a potential buyer's interest in the home.
What may be a nice feature to a seller, could be a turn-off to a buyer.
Tip #3 – Do a Deep Cleaning.
Even though you should have already cleaned your home, there is a good chance you will need to dust and de-clutter again.
Make sure mirror, appliances and windows are clear of finger-prints.
Organize your cabinets, closets and even under your sinks.
If you don't have the time or desire to do a deep cleaning, hire a cleaning service.
Tip #4 – Stage your Home.
Staging does not have to be expensive. You don't have to run out and purchase new furniture.
It could be something as simple as re-arranging furniture to make the flow and aesthetics of a room more appealing.
Turn on your sprinklers before the open house starts to give your lawn a "glow"; put fresh flowers in the entry way; or even set your dining table.
Don't forget to take down personal photos of your family so that buyers can picture themselves in your home.
Tip #5 – Let in Natural Lighting
I know it's hot outside in Florida; but lighting not only brightens up your home, it makes the rooms appear larger.
Open blinds and curtains during your Open House.
Remember to replace all non-working light-bulbs so light switches work when buyers are touring your home.
Tip #6 – Don't forget the home exterior
Cut your grass, trim bushes, prune trees and touch-up paint on patio furniture & exterior
Remember, buyers see the exterior of your home first, and many buyers won't go inside if your curb appeal is lacking.
Tip #7 – Secure your Pets
Not everyone loves animals. And even though Fido is a member of your family, you need to make arrangements for him/her during your Open House.
Barking dogs, aggressive dogs, or even friendly dogs that jump on people are a no-no.
Consider having a friend or other family member take care of your pet(s) during the Open House.
If that is not an option, then be sure to put your pet(s) in a cage in an area that does not distract from the home.
Tip #8 – Aromatherapy for your home.
Do a smell test! Sometimes we are immune to the odors in our own home.
Enlist a friend or neighbor to give you a true and honest opinion of an odors that may be in your home.
If you have a cat, relocate the litter box during the Open House.
If you have dogs, wash dog beds; consider shampooing carpets and all fabric seating surfaces.
And one often overlooked odor is our kitchen sinks. Clean garbage disposals with a baking soda and white vinegar mix.
Or, you can purchase products designed for disposal cleaning like this one at Amazon.
Tip #9 – Put pictures & valuables away
Everyone knows this, but sometimes in doing everything else to get ready for an open house, we forget.
Think of it as eliminating every trace of "yourself" in the home.
Personal photos make it hard for buyers to picture themselves in the home.
Be sure to secure checkbooks, family heirlooms, wallets, cell phones/tablets, prescriptions and the like.
Tip #10 – Advertise
The whole point of you holding your house open is to let as many buyers as possible know about it.
So, don't be a secret. Share your open house on social media, with local real estate agents, and with plenty of road signs.
Be sure your signs bring traffic in from the main roads in both directions.
What do DURING and AFTER the Open House
Try to get feedback from each person that tours your home.
Some comments may be negative; try not to take it negatively.
This feedback will give you information about certain repair, etc., that you may not have noticed.
After the open house, make sure every window and door is locked and secure; then head out with your family and enjoy yourself.
If there were any buyers interested, they will eventually contact you for more information